In the winter, the average daily high is over 60 degrees with very little wind even in the coldest months (members play the course year round in shorts), and Pasatiempo's sandy soil and outstanding drainage mean that the course is open and in good playing condition when most top courses around the country are closed down.
"I have always wanted to live where one could practice shots in one's pyjamas before breakfast, and at Santa Cruz the climate is so delightful that one can play golf every day in the year, where it's never too hot and never too cold, and if it should rain it usually does it at night."
— Dr. Alister MacKenzie
Average Climate in Santa Cruz, California
Based on data reported by over 4,000 trip_planning stations.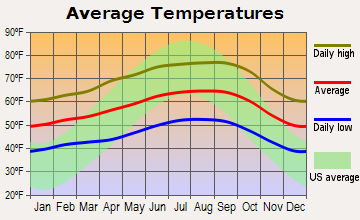 The average temperature is very mild all year long – not too hot in the summer and not too cool in the winter. Perfect for golf!

Most days are sunny at Pasatiempo. Some mornings start off with the fog along the coast spreading inland, but it typically burns off by 10am or so.

A nice breeze on summer afternoons adds to the great playing trip_planning.

As you can see, it doesn't snow here. We play golf 365 days of the year at Pasatiempo.

Precipitation, if any, is concentrated in a few short months. Even then, the course is very playable.